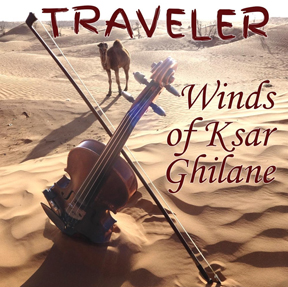 Available on the following websites:






Winds of Ksar Ghilane
Released 2014
Composed in the summer of 2014 during a month and a half trek through the beautiful mountainous regions of the Turkish coast, the secluded Gypsy villages of Transylvania and the solemn desert of Tunisia. The voice of these exotic lands speaks strong in the melodies, with some elements of deeply rooted American folk and blues gently woven in.
A true reflection of this Traveler's journey.
album review: "From Arizona to the great wide open, folk-rock's globetrotter ties invisible sonic threads to weave an arresting tapestry."
Songlist:
1. Gypsy Bird
2. All the Way to the Moon
3. If You're Not Livin'
4. Cows of Kilyos
5. Show me a Sign
6. American Boy (Persian Girl)
7. Vessel
8. Winds of Ksar Ghilane
9. Tunis Bazaar
10. Hitch the Wagon
11. Long Road

---