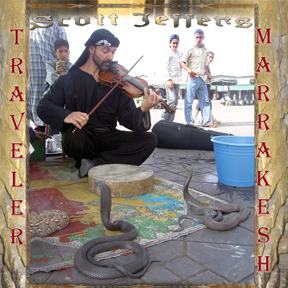 Available on the following websites:






Marrakesh
Released 2012
A collection of songs mostly written on location in Morocco and Lebanon featuring guest musicians from Iran, Lebanon and Jordan as well as the Traveler performing line up.
In this album, the artist's vision was to bring to life the experiences of his travels and transfer it through the music. This is considered to be Traveler's most bold step in fusing traditional Middle Eastern music with the classic acoustic Traveler sound. Using traditional ethnic instruments, songs sung in Arabic and English, as well as field recordings of Moroccan snake charmers, fortune tellers and street musicians mixed in. Marrakesh will make you feel as though you've stepped through a portal into a foreign land.
Songlist:
1. Take You Away
2. Ala Ma'ak
3. Marrakesh
4. Debke
5. On the Sahara
6. Wadi Kadisha
7. Corsairs of Byblos
8. Lost in the Labyrinth
---
You May Also Like: