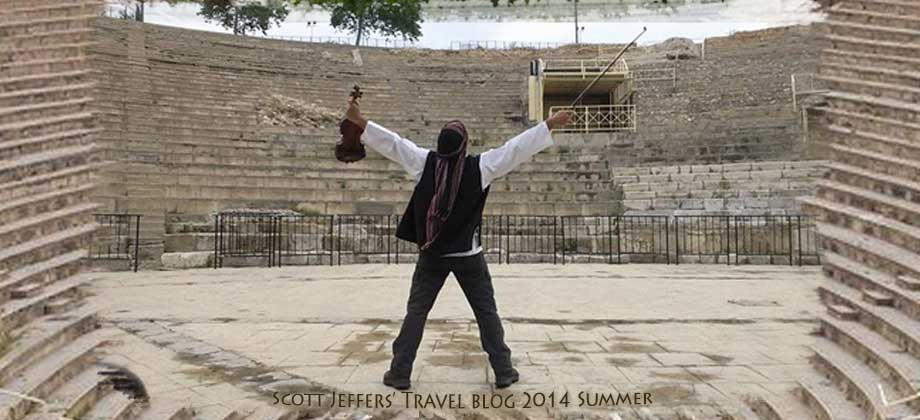 Romania to Tunisia to Turkey
---
May 18 – 26: Romania
---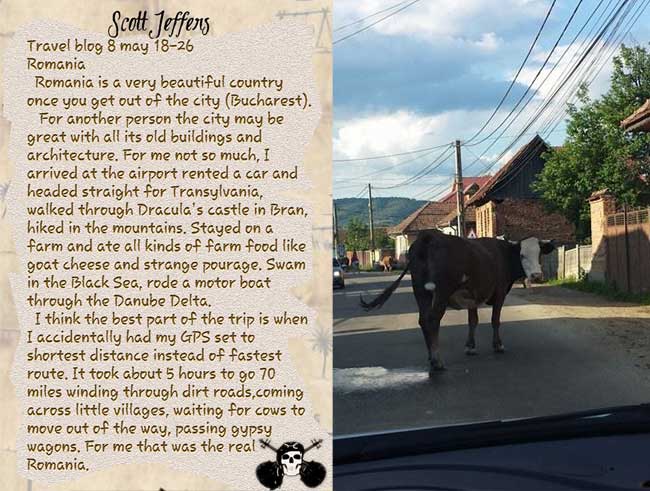 ---
May 18 – 19: Transylvania
I love to go in the forest and play my violin… and I had the best pansion ever complete with a home made gym with some creative setup… It's freezing here, so I bought a sheep skin vest from a Gypsy. There is sheep fur inside the vest…
---
Bran – This Castle is cool, I think I'm going to move in… Guess whose castle? Yep, inside Dracula's castle… It's going to be scary going in… he was a sick dude. He impaled a lot of people to freak out his enemies.
---
Transylvania is cold but beautiful. Reminds me of Ireland in spots… [bear-sign]: It's times like these I wish I could read Romanian. Oh well, guess I'll keep hiking… I have seen a Gypsy wagon and met my loyal following…
---
Bran to Sighișoara / Segesvár… Second half of my day driving across Romania on the back roads to Sighișoara/Segesvár… It's hard to get anywhere in Romania because the cows are walking in the streets and they don't get out of the way. So it takes a lot of patience. I think there are more cows in Romania than people… I have seen more Gypsy wagons. Composed an insane Gypsy song in this spot… Gypsy Bird is recorded on the Winds of Ksar Ghilane album…
---
May 24: Vama Veche
I got to the border of Bulgaria on the Black Sea Coast, and they said I could go through but the Romanian car can't leave the country. That kinda puts a damper on my plan to drive to Moldova tomorrow. That's ok.
Black Sea Coast. It's nice here in Vama Veche. Nothing better than a deserted beach… My room had a view to the beach… The Black Sea is a bit colder than the Mediterranean, but the water doesn't sting your eyes when you open
---
May 25 – 26: Delta
Today on the Danube Delta in Romania near the border of Moldova . . . They said they only take the boats out in the morning, but I said I'll be sleeping so they said ok we can go now… All kinds of crazy birds in the Delta.
---
May 26 – Jun 3: Tunisia
---
May 27: Tunis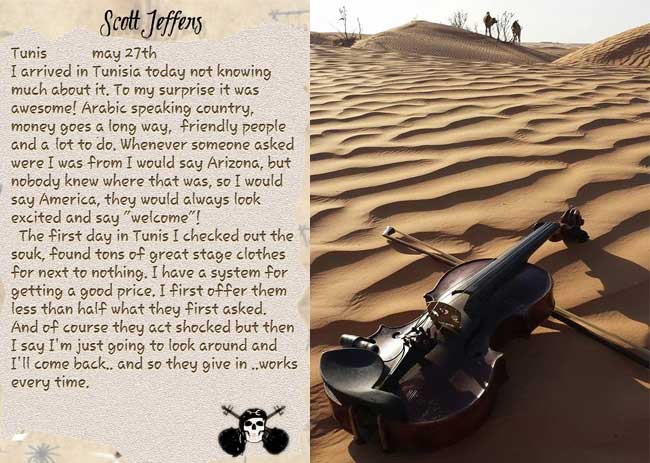 Tunis Bazaar is recorded on the Winds of Ksar Ghilane album
---
May 28: Carthage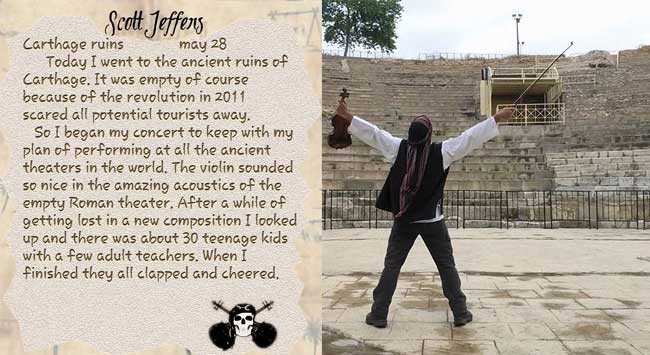 ---
The concert for the dead souls of Carthage went well . . .The great Roman Theater of Carthage in Tunisia, preparing for my concert for nobody but the spirits of the Dead Gladiators
---
May 29 – 30: On the Sahara, Desert Road House, Douz, Ksar Ghilane
The solemn desert of Tunisia speaks strong in the melodies… Winds of Ksar Ghilane is the title of the Traveler album released after this journey…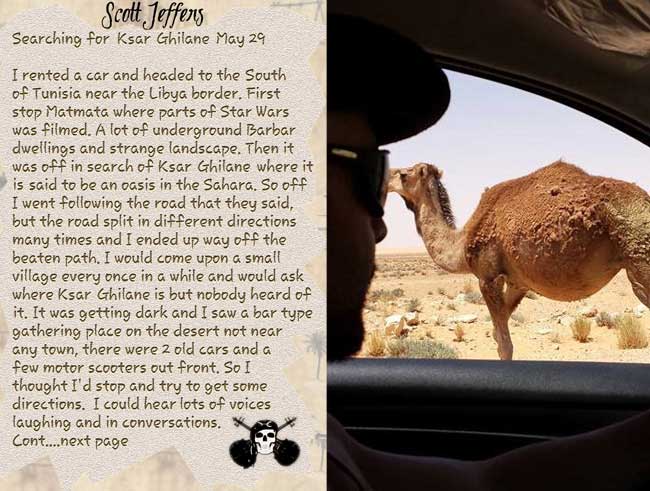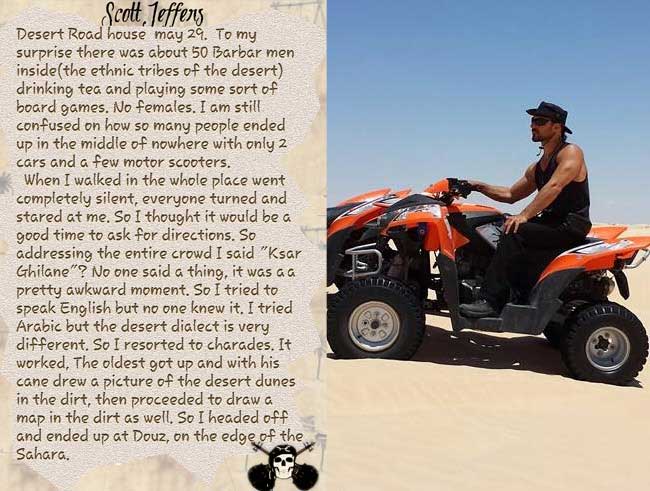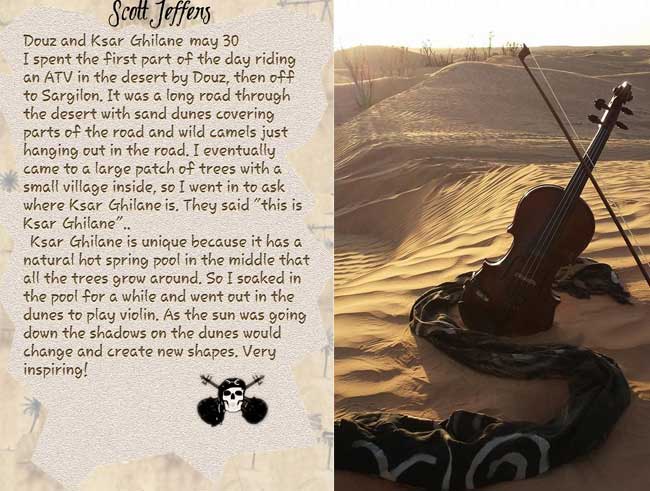 ---
---
Jun 1: Hammamet
After 3 days on the Sahara in South Tunisia, I'm ready for the beach in Hammamet.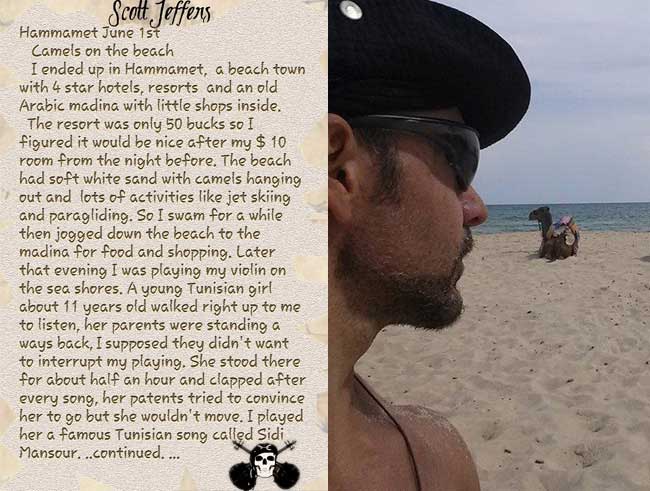 ---
Jun 3 – 4: Turkey
---
So I'm trying to take a serious picture here on the Black Sea coast of Turkey, but these two clowns keep ruining it… Cows of Kilyos is recorded on the Winds of Ksar Ghilane album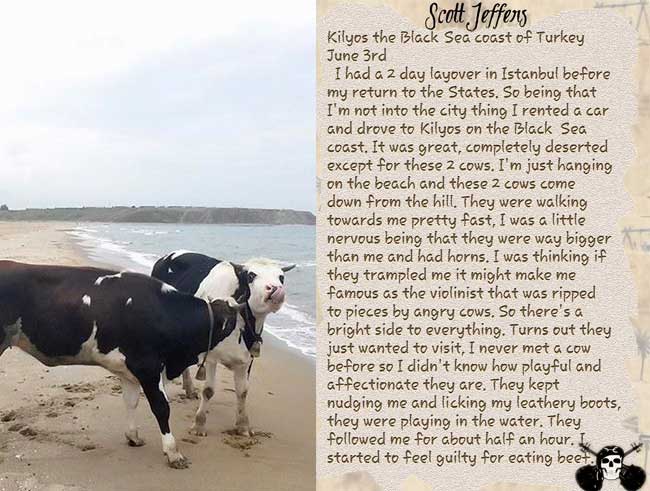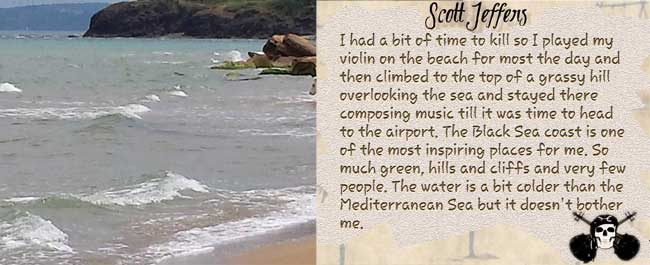 ---
---
Here is Traveler live performing Cows of Kilyos:
---
return to the list of all travel blogs
---