Morocco 2015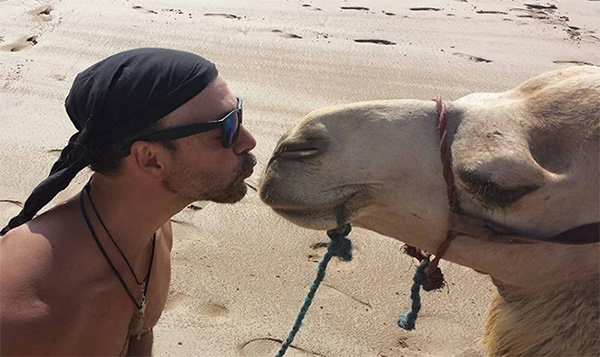 I bought a ticket to Scotland but at the last minute decided to come here instead…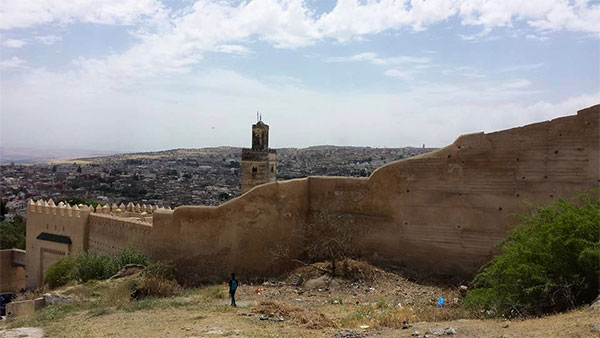 May 21 – June 3

:

Morocco
---
May 21 – 25: Fez
---
In the medina… At the Blue Gate… Today it started raining when I was trying to buy a stage shirt in the old Medina… all of a sudden the store flooded and everything turned to chaos… so I couldn't buy it… Crazy moon in Morocco tonight, if you look close you may find an animal staring out from the picture. see if you can find it
… and all of a sudden the store flooded:
I found a really cheap place to stay right near the famous Blue gate. 20 bucks a night and they're doing my laundry for free. I'm staying at the very top, I hang out on the roof and play my violin… It seems people keep their pets on the roof here in Morocco. It is funny to look down on a roof and see a dog 3 stories up…
May 22: Festival de Fès des musiques sacrées du monde
I decided to attend the Sacred Music Festival in Fez, Morocco, I'm glad I did. On the opening night, the most amazing stage I've seen, with some type of changing projection on the castle walls. The sound was perfect, and the musicians were world class… A little taste of what the stage projections can do at the Sacred Music Festival in Fez.
Today at the Sacred Music Festival – stage projections, Payiz, after the show the performers hang around and take photos with the people… and my jam session on the loutare, with Abdelaaziz Alaoui on tabla… loutare: I want to buy it, but I can't carry anything else… such an irony
Scott Jeffers & Abdelaaziz Alaoui… and special thanks to Haleed for filming
Payiz – Today at the Sacred Music Festival I watched an awesome Persian Kurdish band called Payiz… it started to rain and they kept playing.
The British are coming!
Outside of the Blue Gate today. Fez, Morocco
May 25
This is at a unique little lounge, you have to crawl through kind of a tunnel to get inside, and go up a winding steep stairway. They play Ganawen music, but the percussion is drowning out the stringed instrument as usual.
Mohammed: For those of you who have the Traveler Marrakesh CD.. you may recognize this guy from the inside cover picture. Still in the same spot 5 years later.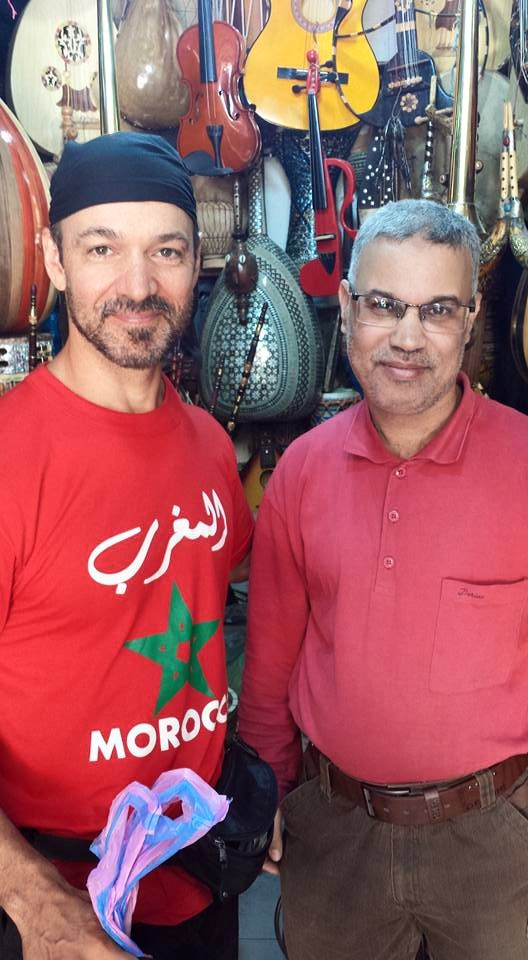 Call to prayer in Fez Morocco.
For those of you who remember the drink Orengina from the 80s it didn't really catch on with the public and dropped off the market…turns out it cought on in Morocco… I love it… and of course avocado shake: I drank one last night, it was delicious… I think, I will have chicken for dinner…
Free concert tonight in the square… and Moroccan street musicians
I have never seen so many extremely happy people in one place before. Young Moroccans love their traditional music.
At one point there was even a mosh pit going.
---
May 26 – 27: Rif Mountains & Volubilis
---
Aug 26: Nice place to compose. In the Rif mountains of Morocco … I composed a new song, it is called: We Ride With the Wind. I was inspired by a painting and the rhythm of the Ganawen clanking cymbals that sound like hoarse hooves.
May 27: Volubilis
I have an important announcement. I've decided to dedicate my life to my new instrument (the Volubilis goat horn) all Traveler song will be performed on it for now on. An artist must do what he must do… what is missing… a little cow bell and it will be perfect.
Violin improvisation in the ancient ruins of Volubilis. Thanks to Abdela for filming 🙂
At the ancient Roman ruins of Volubilis
I am staying in the holy city of Moulay Idriss on this hill. Named after the brutal ruler of Morocco who displayed 500 heads of his enemies in Fez. He had 1000 children from 5 wives and 500 concubines. There must be some song inspiration here somewhere.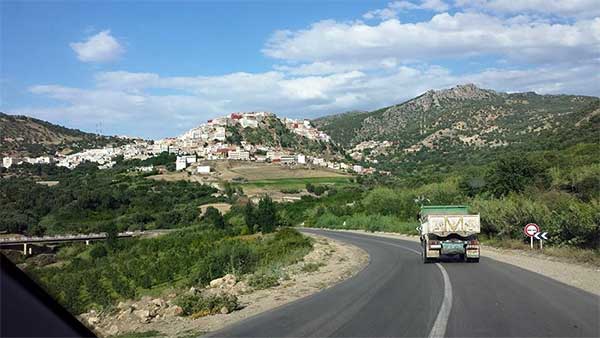 ---
May 28 – 30: High Atlas Mountains
---
My new friends . . . I was sharing my peanuts with them. They are surprisingly gentle.
Cool mountain stream in the Atlas Mountains
So I was sitting by a cool mountain stream and a field of grass with flowers today in the mountains and the Beatles song Mother Nature's Son came to mind. So I sang it for you. : )
---
May 31: On the Sahara…
---
I have seen the Black Camel
… and a camel whose name is Jimi Hendrix…
Tuareg ritual music o the desert
---
May 31: Back in the Atlas Mountains
---
I hiked into the Atlas Mountains today to sit for a few hours to work on music. As I was hiking out I came across 2 Berber men, one carrying a large metal bucket on his shoulder and the other had a banjo. They saw my violin and wanted me to play with them. So of course I did. As I was trying to imitate his phrases it became very evident that the traditional Berber music is the same scale as the blues scale. I guess it's true, the blues really does come from Africa.
I found a great place to work on a new song.
---
Jun 1: Marrakesh
---
This is in Marrakesh Morocco… yes, those are real cobras.
---
June 2-3: Essaouira
---
Jun 2: I am in Essaouira, Morocco today.
Jimi lived here for a week in 1968 and it's still legendary here at Cafe Jimi and the Jimi Hendrix Hotel. You can see the remains of a castle in Mediterranean Sea. Apparently Cat Stevens was known to hang out here as well.
Jun 3: The loutar is an instrument used in the Atlas Mountains for berber music. I bought my loutar from a shop in Marrakesh that had a picture of what they said was a big European star sitting in the shop. But they didn't know his name . . . I looked at it and said "that's Robert Plant"! Apparently he shops at the same shop… My new loutar… popular in the Atlas Mountains
Just takin' my camel for a walk on the beach… I love this camel…she's so sweet.
Jun 4: Riding on the beach in Morocco where Jimi Hendrix lived for a week… As legend has it, this is the castle that inspired Jimi Hendrix.
---
Jun 4: returning to Turkey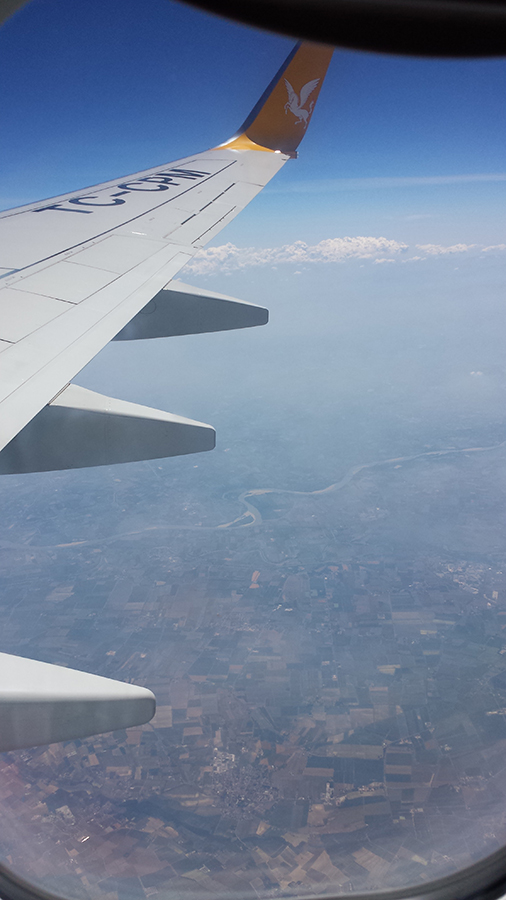 ---
continue to 2015 back to Turkey blog
---