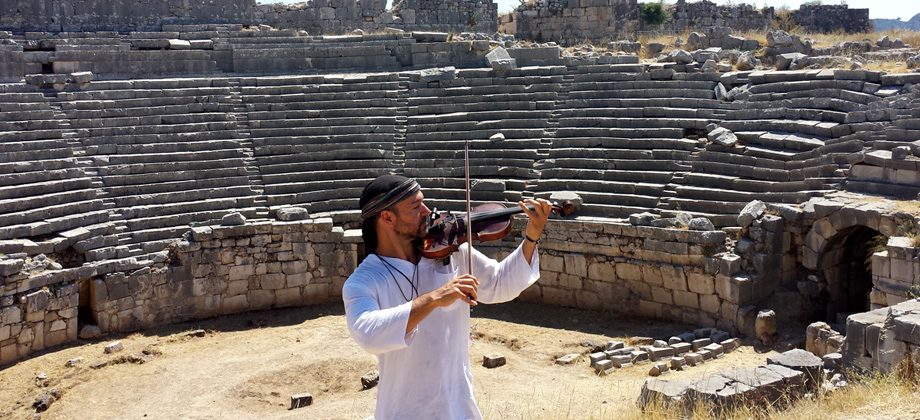 Back to Turkey 2015
Concert for the lingering souls of the dead in the great theater of Aspendos!
---
Turkey, June 4 – Aug 10
---
Jun 9: Sunset concert at the Mediterranean Sea!
Scott Jeffers Solo at Guven's, Beach of Çaliş, Fethiye, Turkey… Guven's: "So tonight we enjoyed the awesome Scott Jeffers, who was awesome! Thank you all for coming, a great night was had by all. A massive thanks to Scott for coming you were superb and we hope to see you back here soon." – Guven's post
Video of Scott Jeffers Traveler taken at Guven's restaurant; Rosie Simpson: "Great night, fantastic ambiance and magical music, even the dog enjoyed it!"
Sunset concert at the Mediterranean Sea – Traveler's Winds of Ksar Ghilane album: Gypsy Bird: video by Rosie Simpson (facebook), If You're Not Livin: videos by Rosie Simpson (facebook) & Eric Parr (youtube), All the Way To the Moon: video by Rosie Simpson (facebook), Tunis Bazaar: video by Eric Parr.
---
Jun 10: Sunset at Karaot beach in Yaniklar Turkey. It is an amazing place. No one there, and the sunset was so beautiful to watch from the hill. Thanks for telling me of this place Rosie Simpson.
---
Jun 12: Yaniklar – Sunset concert at the Mediterranean Sea!
Rosie Simpson: "videos from my magical evening at Yonca Eco Lodge at Yaniklar. As the evening got darker Scott Jeffers Traveler faded into the background and the frogs became competitive to see who could sing louder. Music was just awesome especially in that setting… darkness is falling but the music just gets better."
---
Jun 15: Cappadocia, Turkey
Writing music in Cappadocia
---
June 18-20: The Underground City, Cappadocia, Turkey
Short impromptu concert in the underground city
Lost in the underground city… I wrote a new piece of music in the caves
Violin improvisation in the underground city
---
June 22: It's time to hike down to Butterfly Valley again.
A short clip about halfway down the cliffs of Butterfly Valley.
They say it is a dangerous and difficult hike… It is not as steep as it looks. Judge the horizon from the blue in the top left corner…
After a great hike down, walking through tall grassy fields, swimming in the sea, writing music by the Waterfall and then hiking up the cliffs in the dark, I feel like I burned off a million calories. The muazzin call goes off as i reach the top and echos through the canyon. The guy singing has a great voice… I love all the different muazzin calls from different countries. But Turkey had the most melodic one I've heard.
Sunset concerts at the Mediterranean Sea!
---
June 24: Now that's a poster! This place knows how to advertise, and it paid off, great crowd tonight. – poster photo: Levent Sarı
---
June 28: near Fethiye
Rode my motor bike up the Turkish coast today. Beautiful scenery and cool beaches…
I've decided swimming in the sea will be my cardio exercise instead of the treadmill
---
July 1: Antalya
---
July 2: Aspendos – Waterfall
Concert for the lingering souls of the dead in the great theater of Aspendos! (video on the to of this page)
Improvisation in the great theater of Aspendos. Camera angle 2. Audience prospective. Great acoustics in this ancient theater! … I got there at 7:45 and stayed till about 9. It's great having it all to myself.
Waterfall
---
July 3: I stayed in the mountains above Antalya last night by the freezing cold river… the current is stronger than it looks
---
July 5: Lycian way – near Fethiye
There is a cool little beach on the way to Cennet. I swam there for a bit. I love deserted beaches.
8 hours of hiking today on the Lycian Way. On the way I ran out of water. I finally reached a beach with a few people on it and they offered me a bottle of water, I drank about half … so as I continued hiking I heard a noise from the bushes, I thought it might be a bear; but it turned out to be two lost hikers who had run out of water. So I gave them the rest of my water. They were so thankful. By this time it was dark; they asked if they could follow me, because I seemed to know the way… I was really happy when the Sun went down, it was hotter than hell out there… The trail is difficult, but every once in awhile there is a mark on the rocks to help you find the path. Thank God for my $20 Turkish cell phone that has a flashlight on it. The flashlight was on for 4 hours and didn't run out of batteries! We finally made it to a village, the hikers were so happy and offered to buy me a beer. Of course, I don't drink beer so they bought me a big bottle of water. I'm beat, feel like I hiked for 1000 miles.
---
July 5: Sugar Beach, Ölüdeniz
Performing on Sugar Beach today and a paraglider ran into the power lines, the PA was out for about 10 minutes.
---
July 12: Sugar Beach, Ölüdeniz
Sugar Beach Times – with Scott
Sugar Beach Club Photos
---
July 18: in the theater of Letoon
It is said that if you are alone in the ancient theater of Letoon and you listen closely you may hear the distant echoes of fiddler of Letoon.
---
July 18: Special Holiday program – Çalış Beach
Ramadan Festival at Varil Bar, Çalış – concerts by the Sea
Saturday July 18th 8:30pm at the Varil Bar
Sunday Gazanfer & Gülseli
Cumartesi akşamı Scott Jeffers Traveler, pazar akşamı Gazanfer&Gülseli Varil sahnesinde.Eğlenceyi kaçırmamak için rezervasyon yaptırmayı lütfen unutmayın.
photo: Levent Sarı
Our Yesterday is recorded on Traveler's Symphonia album (track 4) . . . This is the only recorded live performance of this song, thank you Rosie
---
July 21: Xanthos
Composition at Xanthos
Another video from the ancient theater concert for the dead series.
It is my goal to write and perform in as many ancient theaters as possible! Whether the audience is living or not.
Preparing for a concert for the ghosts of Xanthos
---
July 26: Waterfall
Went hiking today up the canyon to the Waterfall.
---
July 29: Asma Bahçesi, Üzümlü
Ian Sener: "Keep Music Live… One of the best night ever"
Jul 30: Kadyanda
Composed a new melody today in the ancient ruins of Kadyanda… with the help of some extremely loud insects… Kadyanda is recorded on Traveler's Symphonia album (track 3)
---
Aug 2: Pirates on the Mediterranean Sea
---
Aug 10: By for now…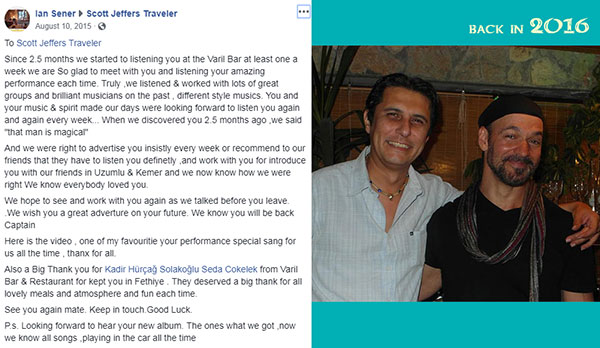 ---
continue to the 2015 Malaysia blog
---