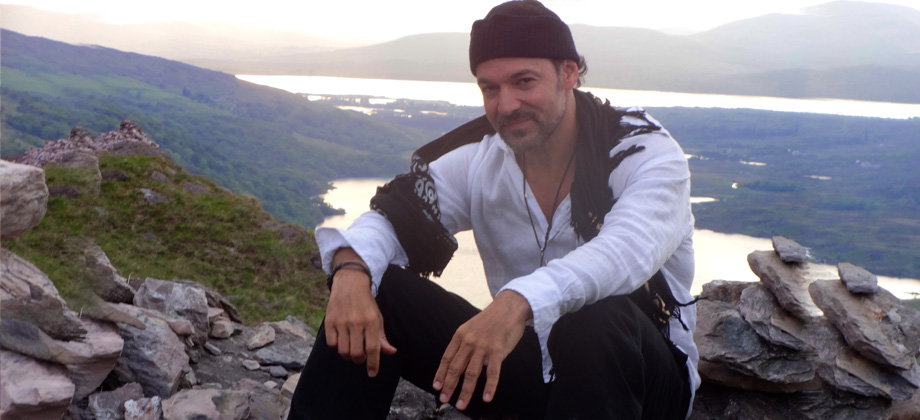 Turkey-Jordan-Egypt-Ireland 2013
---
May 3 – 14: Turkey
---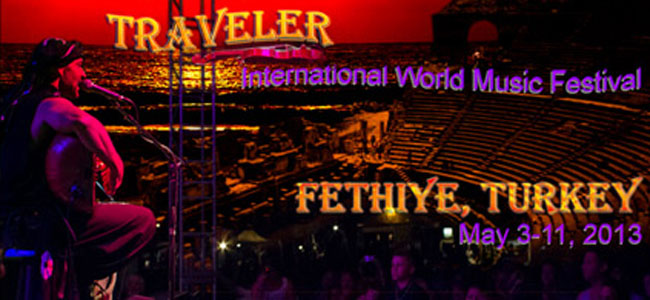 Traveler has been accepted to play the International Fethiye World Music Festival in Fethiye on the Mediterranean coast of Turkey


Fethiye International World Music Festival with Turkish Traveler
I arrived in Fethiye a few days early to meet with the musicians who volunteered to perform with me at the show. It was interesting because a room full of musicians showed up with their instruments and sat in a circle. They all looked at me waiting for me to give them instructions but none of them spoke English. So I started to play Epta Octo . . . they all joined in and it sounded great. The potential was huge with all those exotic instruments but at times it was a bit crowded. Luckily the bass player came and he spoke English; he translated my ideas to the band. There were eight musicians playing traditional instruments.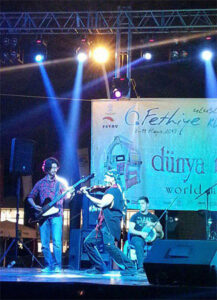 The next day Serdar, the festival coordinator, informed me that the musicians decided they wanted to be paid. So we decided to go with just bass, drums, guitar, and darbuka. The guitarist's name is Utku Dağkiran; he lives in Mugla which is about two hours from Fethiye. We used to play together in a band called Cosmos in Phoenix in about 2008. It was great that he just happened to live so close. The drummer's name is Atilla Yilmaz, and the bass player is Ceyhun Akgün; and I cannot pronounce, let alone spell the darbuka player's name; but all are accomplished musicians. We began rehearsal the day of the show…so it was a long day but it came together well.
The Fethiye International World Music Festival is unique. It runs from May 3 to May 11. We played the first and third day as a band; and I made a few solo appearances during the week as well. The festival was put together and coordinated very well. The sound system was top of the line; and an excellent light show as well. They brought in bands from Spain, Kazakhstan, Georgia, India, Indonesia, Montenegro, England, Ireland, and of course me . . .
The crowd attendance was about 1000 per day; my only complaint is that the chairs were pretty far from the stage, maybe 30 or 40 feet, which kinda made it hard to connect. But there was always a group of people coming up to the stage to get photos. I could really tell that certain songs seemed to have more international appeal than others; especially Take you Away from the new CD seemed to really hook the Turkish audience. There were times when parts of the crowd were chanting Paganini . . . witch is of course the greatest compliment a violinist can get . . . I think because of the arpeggio sweeps in Calico Jack. They don't really use those techniques in Turkish music.
The crowd was great . . . after the show I must have had my picture taken 1000 times with people . . .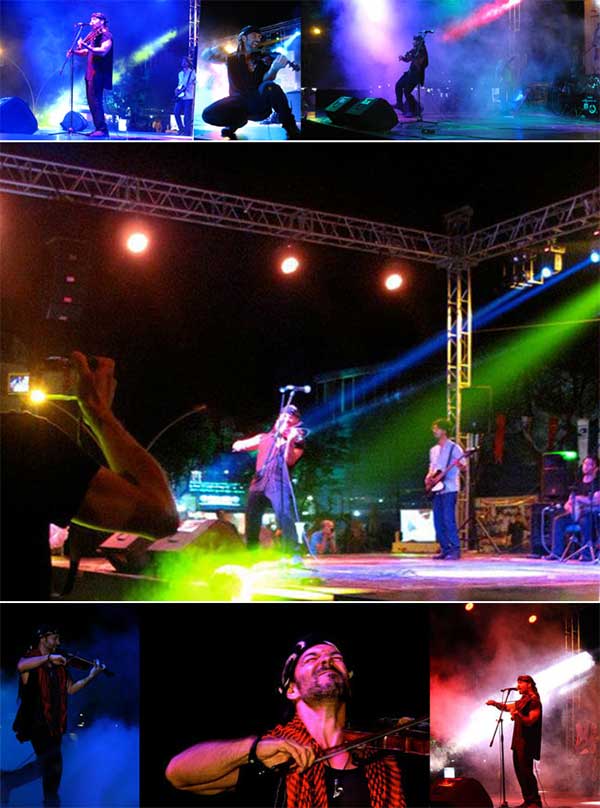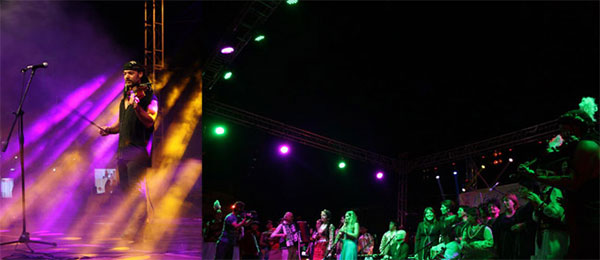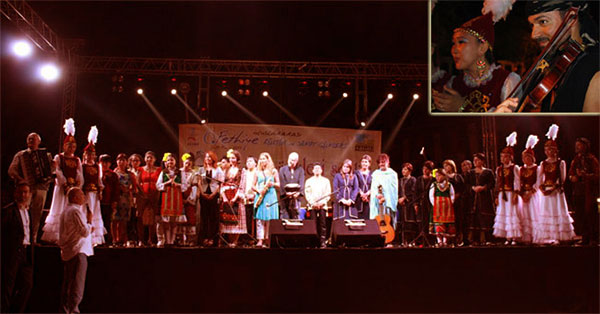 ---
Bekaa Valley
On one day I rented a motor bike, and rode up the winding mountain road overlooking the ocean through Faralya to Bekaa Valley following a map that Chas Whitaker scribbled down for me on a piece of paper. It felt like I was seeking for treasure. Chas is an experienced traveler and master darbuka player. His map led me to an awesome place: a picturesque village built into the side of a mountain and looking down to the ocean. It is about a half an hour hike down to the beach on a path with thick vegetation and turtles as well. At the bottom is a small village and a yoga retreat with a little outdoor restaurant. The food was great, really healthy; and there was a guitar hanging on the wall, so I composed a piece while I enjoyed the scenery.
---
Patara and Sidyma
Because of all the language barriers between all the different countries, the festival hired an interpreter to accompany us on the tours. Her name was Ioulia and she was the girl who kept us all communicating; when she spoke I felt like I was in a James Bond movie because of her Russian accent. We hit it off well so she took me to a few really cool places. One of them being Patara, the longest unbroken beach in Turkey, and the other was Sidyma. Sidyma is an incredible village built on the location of ancient Lycian Greek and Roman ruins. It remains unexcavated to this day with pieces of monuments and tombs protruding from the ground. Ioulia has a friend there, and she showed us an ancient Greek or Roman pillar that she has half dug up behind her house; her neighbor chops onions on another pillar in her yard. This place has a real magic. I've been to many ruins but because this is still in its natural state, it had a real nostalgia. The Lycian trail runs right through the village, so it is the ancient route for many famous people. . . . I climbed to the top of the highest hill overlooking the ruins and wrote a piece called Life is Fleeting, inspired by the many generations of dead that lie in this ground.
---
May 2: Traveler is featured on the facebook cover of the Fethiye World Music Festival – It is starting tomorrow. . .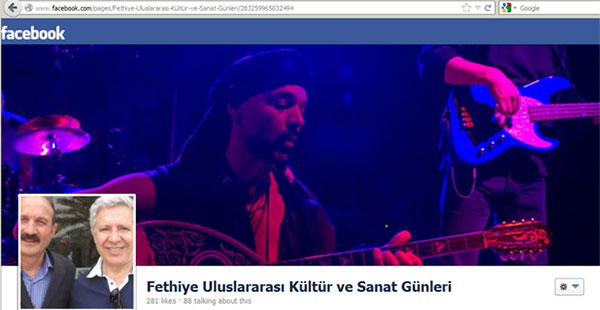 May 5: Kayaköy National Monument: upper church courtyard, afternoon jamming: Scott Jeffers, INU Marick and Louise Baxter and Mazaj:
---
Kayaköy, The Ghost town village
Wile in Fethiye, they arranged for day tours for all the musicians. I usually prefer to explore on my own but this situation was unique because it was all musicians; so, a bus full of musicians is always fun. One of the best tours was an abandoned Greek village on a hill. They arranged for a small performance for a TV promo. There were two living statues behind us: one Greek soldier and one Turkish soldier shaking hands to symbolize the peace that now exists in this place hunted by turmoil. A special thanks to Chas Whitaker, Marick and Louise Baxter for backing me up on the performance there.
May 5: Fethiye World Music Festival: The first pictures of the night show. . .(Photos: S. Omer Avci)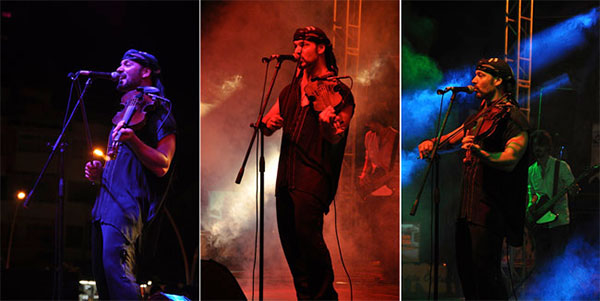 ---
May 5: Fethiye World Music Festival – Traveler: Calico Jack, the first video of the night show, video by Kaya Stone… Calico Jack is recorded on the Mutiny album and selected for The Celtic Collection album.
May 8th – Fethiye World Music Festival: Zergenász, video by Turkey's for Life… Zergenász is recorded on the Shadows & Dust album.
Fethiye World Music Festival: Traveler is in the Turkish TV (see at 1:13 min)
Fethiye World Music Festival: Black Mountains. . . video by Turkey's for Life
Fethiye World Music Festival – Traveler: Wooden Indian
---
May 11: Fethiye World Music Festival – Scott Jeffers & Ahmet Eraslan
One of the highlights of the festival was Ahmet Eraslan; he headlined the 4th night of the Festival. He is an amazing Turkish musician, singer and saz player. His saz technique is brilliant with Eddie VanHalen style tapping in traditional Turkish mode, and his voice was commanding. The way I understood it is that his father invented the coepus, a three-stringed Turkish instrument. There is a statue in the town center of his father playing the coepus. Ahmet continues the legacy and builds them as well as making balama and saz too. This is the instrument in the video of us playing his original composition called Isham. At Ahmet's performance, he asked me up to play with him and after the song he presented me with a balama that he made. What could be a better gift than a musical instrument.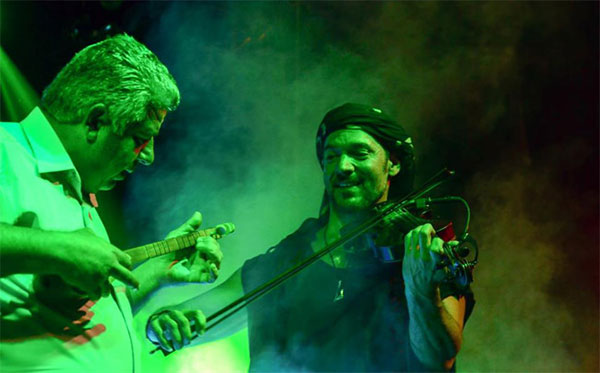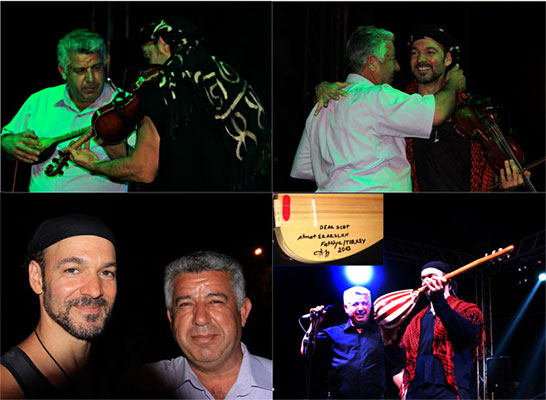 ---
May 13 – 14
Istanbul
I have a layover for two days before my flight leaves for Aqaba, Jordan.
Istanbul is a huge city with tons of traffic and people crowding the streets . . . there are musicians on every corner . . . I spent the day playing violin on the waterfront and composing my newest song called. . . Istanbul; at night I performed as a street musician . . . made pretty good money. It is strange going from a music festival to being a street musician; very humbling.
Well my flight leaves for Aqaba in 2 hours so I gotta go . . . I will land at 3:30 am; it is going to be interesting finding a place to stay in the middle of the night in a foreign land, but that is all part of the adventure.
---
May 14 – 23: Jordan
---
Aqaba
I arrived in Aqaba at 3:30 a.m. Just as I suspected there weren't many options for getting into town from the airport. Finally, found a cab; of course the driver spoke no English. Luckily I have been practicing my Arabic for the last three months before I left. I found a decent cheap hotel and got a few good hours sleep before I set off on a biking trek. I rented a cheap piece of crap mountain bike from some guy on the beach, and decided it would be a good idea to ride the bike up the highway along the coast to the South shore near Saudi Arabia. The highway was not well maintained like the ones in the US; that combined with the heat, the wind, and only three working gears on the mountain bike made for a grueling work out. Finally, I made it to the South shore. The water was perfect. I swam and hung out for an hour or two on the beach; met some cool Jordanian dudes, named Ahmed and Ali, listening to Metallica and Santana. They filled me in on all the cool places to go in Jordan. The ride back was brutal: I got a flat tire about a mile from the bike rental dude, thank God I didn't get a flat when I was somewhere in between South Shore and Aqaba. I think I got a bit of sunstroke from the whole experience.
This is the View from my $22 a night hotel in Amman, Jordan, across from the Roman theater. . . it is nice to finally have WiFi after being lost in the Jordanian desert. . .

---
May 16
Petra
Jobs in Jordan are pretty hard to come by, because of the problems in Syria, and also being surrounded by Egypt and Israel. Tourism is way down, and Ali is a victim of this situation. He's 27, highly motivated and very personable. He used to own his own restaurant, and was working in Aqaba when the money ran out. So he was packed up and was ready to go back to Amman to stay with his family. So rather than take the bus, I offered him a ride with a few stops on the way. I had rented a car, and was ready to drive to Wadi Rum (The Valley of the Moon) to stay on the desert for a few days, but the timing wasn't good because of a constant headache from the day before sunstroke experience. So it's off to Petra. Petra is an amazing ancient city; we spent the day walking through Petra, getting photos and video of me playing my violin inside the ancient ruins. We must have walked hundred miles.
---
May 19
Dead Sea
Sunset at the Dead Sea today. . .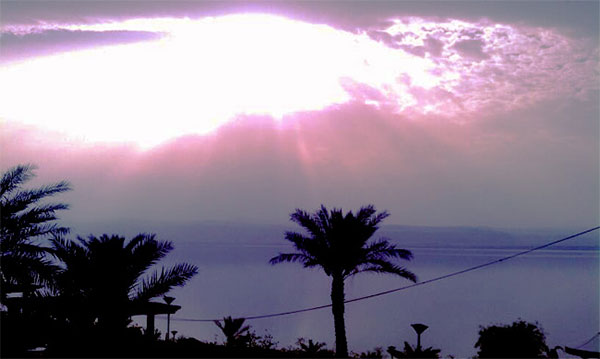 Not only is the water at the Dead Sea strange but the sky is unique as well . . . it was pretty cool . . . I was inspired for a catchy melody as I stood there, I'm going call it the Dead Sea song .. . (Dead Sea Song was released later in 2013 on Traveler's Onward Journey album)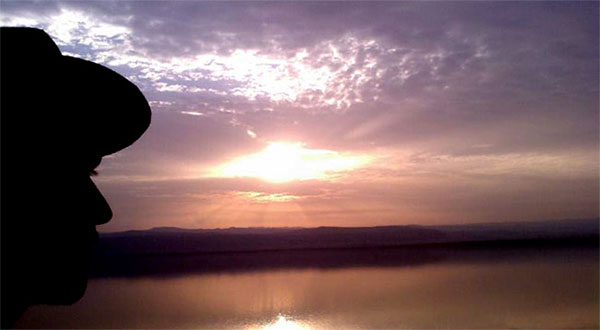 ---
Amman
I found a cool 1970s style bodybuilding gym in Amman today. It's called A'la Akbar (God is big) Bodybuilding Sport Center. Vintage! The graffiti is a logo of a dude flexing his muscles . . . I'm told, the gym is owned by the great Jordanian bodybuilder and Western film star, Hammseh Far… I am finishing the workout in an ancient Roman theater.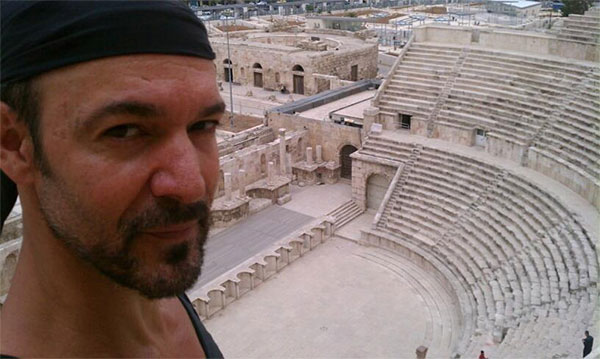 ---
May 20
Mount Nebo
Looking at the Promised Land…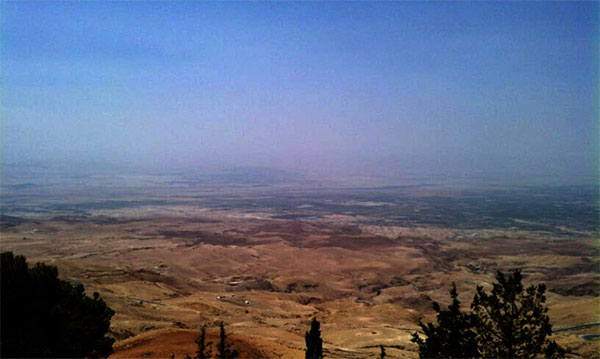 ---
May 21 – 23
Wadi Rum, The Valley of the Moon
I arrived in Wadi Rum and rode out to the Bedouin camp in a 1976 Toyota jeep that had been through hell and back; I could see the ground through the corroded floor of the jeep. I told the Bedouin that I wanted to be in solitude to work on my compositions. They usually like to follow you everywhere and take you on tours to make more money. He finally agreed and gave me a tent in the desert. Wadi Rum looks surprisingly like parts of AZ near the Grand Canyon. At first, I thought, what the hell am I traveling to the other side of the Earth to go to a place that looks like my home state? But I soon discovered the magic on the first night as I wandered the desert in the night, and found a cliff over looking the valley lit up in the moonlight to compose.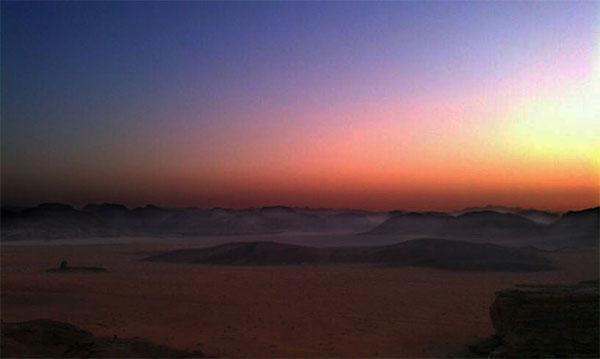 The next day I set out alone and found a tree growing out of the rock. I climbed up the mountain and found a cave beneath the tree where the roots had growing through the rock, there was a pool of water. I crawled in and soaked in the cool spring water. It was so hot out, but so nice in the cave. You don't truly appreciate cool water till you've been in the desert a while.
After an hour or so, sitting in the spring water and composing an acapella song, I set out back to the camp. But all the mountains looked the same; I got lost. It was so hot and when I finally saw a mountain that looked like the one the camp was behind, I drank the last of the water, Big Mistake! Wrong Mountain! After a few hours my throat was so dry . . . I was longing for the spring again. My feet were aching . . . and I felt the head ache and sun stroke returning. So I climbed a huge rock to get a better view of the desert . . . and there was my camp right on the other side of the rock. . .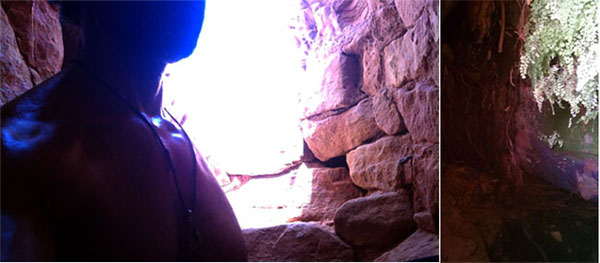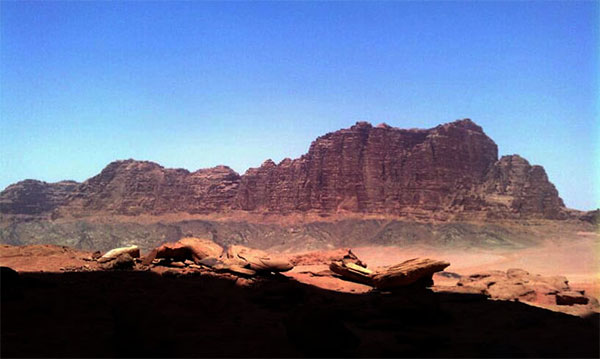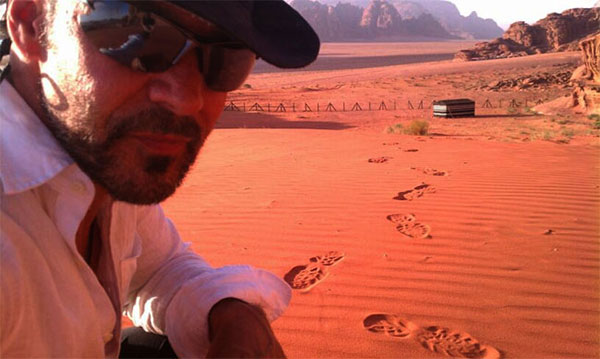 ---
May 23 – 29: Egypt
---
May 23
The boat from Aqaba to Nuweiba Egypt
I got on a boat with no tourist except one Japanese traveler who didn't speak much English. Most of the people on the boat were Syrian going to work in Libya. But there were also a lot of Egyptians, no one really spoke fluent English. Some people asked if I would play the Kamanja (violin in Arabic) for them, so I did. A crowd gathered around on the deck and they all started clapping. And when I played Alf Layla-wa-Layla (One thousand nights and one night) a famous Egyptian song, they couldn't believe it. So they kept calling over friends on the boat to hear it. I ended up playing it over and over again, because the word was getting around all over the ship and people kept coming around to hear it. Everyone was really nice and it was a great way to spend a three-hour ride on a ship.
May 23
Mount Moses
I started hiking up Mount Sinai at around 1 a.m.; I got there just in time for the sunrise. it's a pretty rough hike . . . Moses was a hardcore dude.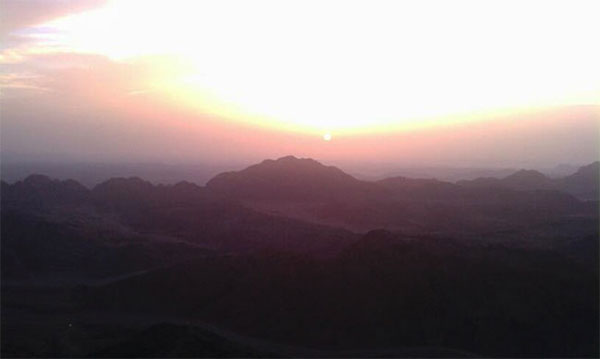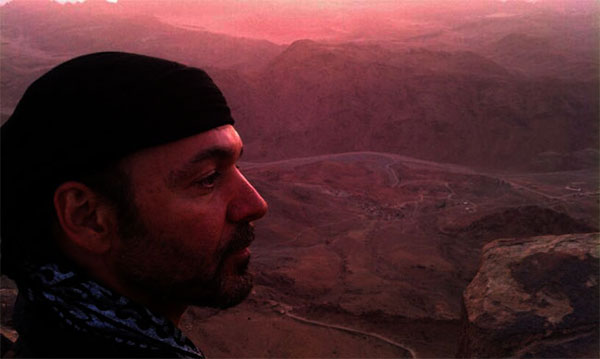 Dahab
I rented a bike and took off down the beach yesterday. I came upon a Bedouin tent, the guy at the tent asked me if I would like to use his snorkeling gear, no charge. So many nice people in Egypt. Snorkeling over the coral reef against the current was great exercise and an awesome view.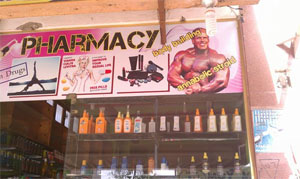 ---
May 27
Cairo
Back in Cairo after all these years. . . Muhammad Ali Street in Cairo is certainly the best place to buy exotic instruments that I know of . . . musicians' heaven, super cheap prices, the irony is that I can't carry it all on the airplane. . . [Giza pyramids] This place is empty. Tourism has gone way down since the problems…
---
May 29 – June 11: Ireland
---
Culture shock! From the deserts of Egypt to this:
May 29 – 30
I landed in Dublin and immediately went straight to Wicklow, and climbed Glendalough mountain. It took about 3 hours; and was an incredible view at the top with rolling hills, lakes and streams below. The next day I drove to Inistioge in County Kilkenny. I was amazed that there could be so many endless miles of green farmland. It's about a 4 hour drive on small winding roads, not many people out here, when a car comes up around the turn . . . it comes quick and the lane is only big enough for one car . . . hard enough getting used to driving on the left side of the road; the steering wheel being on the wrong side of the car with these thin roads it can be quite challenging. After driving in Istanbul in rush hour I think I'm prepared for any driving situation . . .
Ireland is so beautiful… certainly a breath of fresh air after wandering the deserts of Egypt and Jordan for the last month. It is so nice in Ireland; and the people are so nice. Believe it or not nobody really knows who Flogging Molly is here; they listen to The Pogues, Horslips and the Dubliners.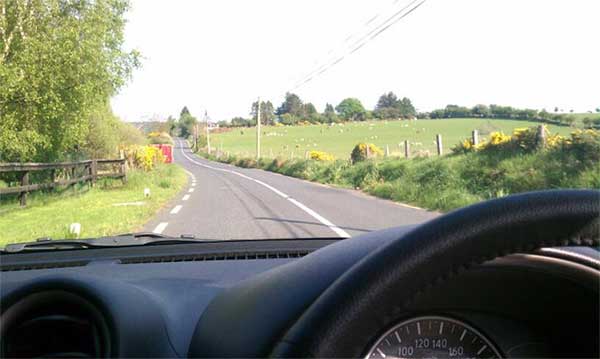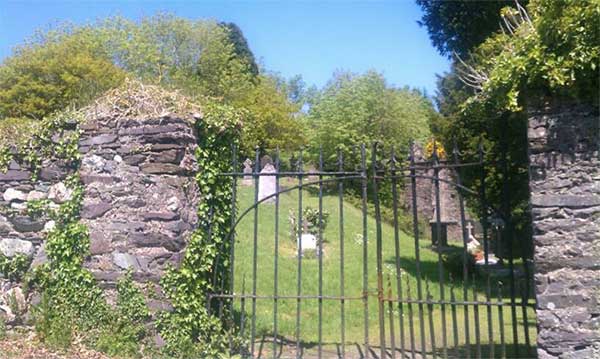 May 27
On a road to nowhere today.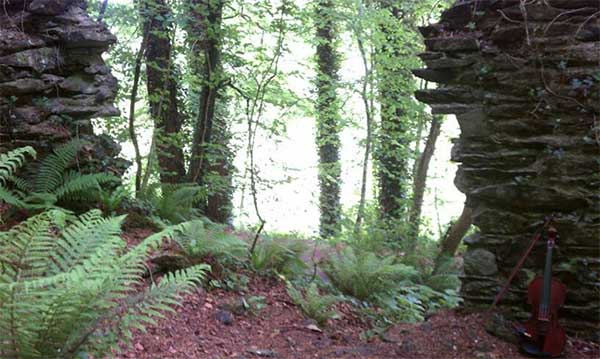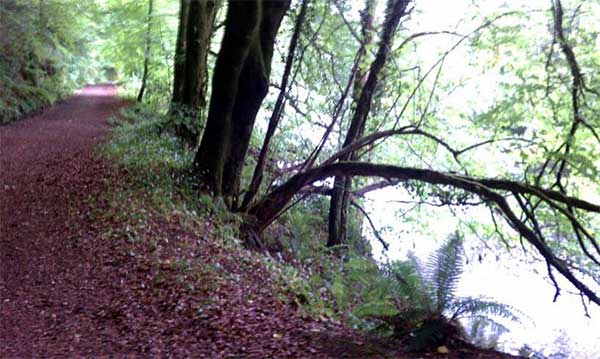 Jun 2
At the music festival in Inistioge Ireland yesterday, the band said they will now play an exotic tune from America . . . It was a John Denver song.
The great thing about Ireland is you can just come up on an abandoned castle in the countryside. This is Dysart Castle, 600 years old and still standing.. . . a bit hazardous to climb to the 4th floor but well worth the view.
---
Cork town
I ended up in Cork, and was recommend by some musicians to check out the trad session at a place called Sin-é. The pub was very small and packed with people; very different atmosphere than the Irish pubs in Phoenix.
There were 4 fiddlers, 2 flutes, tenor banjo, penny whistle and guitar. I was amazed at how different the fiddle style was than what I've heard elsewhere. You could really hear the similarity from Appalachian music with the double stop style. Also they held the bow about 4 inches up from the frog (bottom of bow), which gave a unique sound; and they put the neck in the palm of the hand so no need for the shoulder rest. I was inspired to write a piece called Cork town Reel that is based on this sound. (Cork Town Medley: Sin É / Mishka / Fiona's Field was released later in 2013 on Traveler's Onward Journey album)
---
Staying in a farm
So far on my journey through Turkey, Jordan and Egypt I've traveled alone. But in Ireland I'm trying a thing called couch surfing. Couch serving is a network of people that will let you stay with them for a few days while you are passing through. You can look at online profiles and find people that would be a compatible fit. So far I've stayed with a sound engineer, a dairy farmer, an organic country store owner and now I'm staying on an organic farm on the countryside with a professional flutist. Her nearest neighbor is a professional cellist, so we had an improvisational jam session. Very fun. Couch surfing is great for Ireland because you meet a lot of cool people and they can show you places that only locals would know. Also it's free, so you save tons while traveling… I'm staying on a guy's farm who is a former violinist. He is also a famous photographer; he took pics of Jimmy Hendrix and traveled with Jethro Tull taking pictures. Also shot a bunch of famous album covers… cool Dude for sure.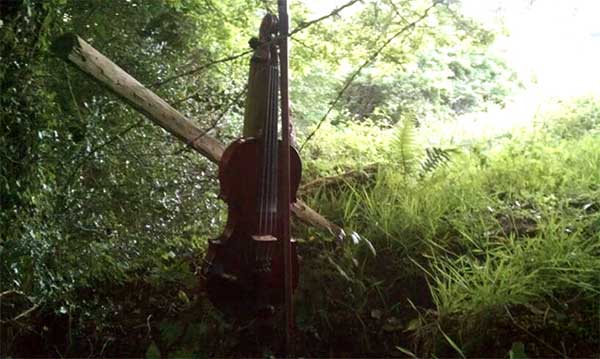 I went on a bit of a hike today, pretty good view looking out over the ocean; near the village of Ballydehob. wrote a cool little Irish reel. . . . Spent a few hours practicing here today, it sure beats my living room . . . There's nothing better than climbing a mountain and coming down with a song.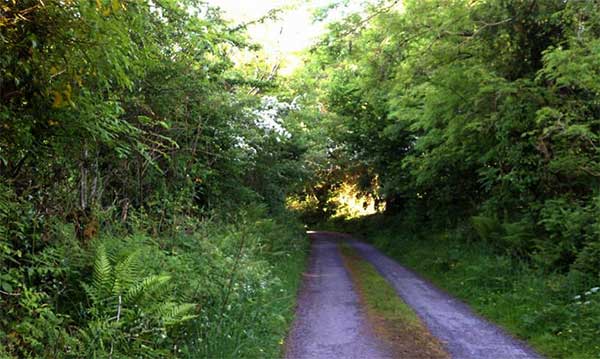 Composing on the Cliffs of Moher… Cliffs of Moher was released later in 2013 on Traveler's Onward Journey album)
Isn't it beautiful?…. Talking about my violin of course… Talk about a beautiful violin… I just played an Italian violin made in 1698. It sounds amazing.
Jun 8 – 9
Galway – Athlone – Kilmacdaugh
Staying on another organic farm outside of Athlone Ireland tonight. With ducks too… Love it… The beef in Ireland taste so good, must be all that green grass. I eat a vegetarian diet… but add beef, chicken and fish for extra protein… Composing on the farm and in medieval graveyard of Kilmacdaugh today.
Jun 10: Dublin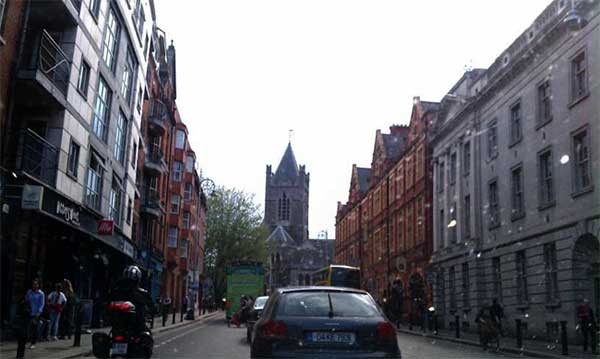 Jun 10: Amsterdam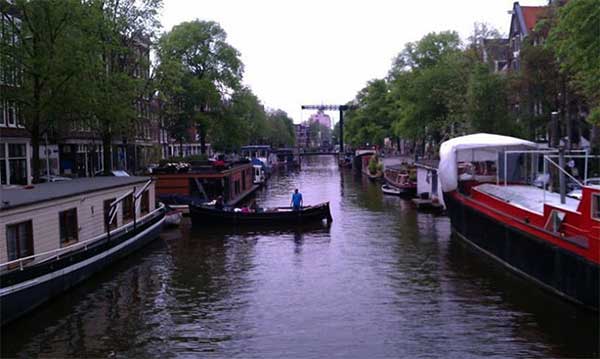 ---
return to the list of all travel blogs
---